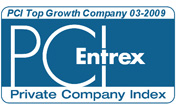 Connors Research announced as an Entrex Top Growth Company
Published monthly, the Entrex Private Company Index (PCI) is a proprietary benchmarking tool that measures revenue performance in the sector of private companies with up to $250 million in annual revenue. The PCI is recognized by Investment professionals and financial media as a leading and authoritative source on private company revenue performance.

LATEST RESEARCH
Master 7 Quantified Strategies for Trading ETFs. ETF trading is rapidly growing and this is the must have book to trade one of the fastest growing financial instruments.
Leveraged ETF Study – Connors Research
David Weilmuenster of Connors Research analyzes the real-world returns of the new class of leveraged and inverse ETFs. These ETFs have generated immense trading volumes and great excitement among both institutional and consumer investors. This paper combines empirical return and volatility measurements to demonstrate some non-intuitive behavior. It also relates these ETFs' unique microstructures to the trading opportunities they provide, and presents conclusions that all interested ETF traders will want to consider.

Historical Volatility: The Holy Grail Found?
Over the many decades of academic studies and research done by market professionals, nearly everything imaginable has been tested in an attempt to predict the direction of a company's stock price. The one area which we believe remains fertile ground for further research is price behavior.

Read More >>

New Product
The Machine
The Machine is the industry's first and most comprehensive solution for constructing quantified, high-performance, backtested portfolios. The institutional money manager, investment advisor or active trader uses The Machine to select and compare any number of combinations of trading and investing strategy within a consistent and rigorous statistical backtesting framework,. The Machine enables them to manage those strategy sets for their clients, their lines of business or their proprietary trading accounts, and then execute those strategies by delivering real-world trading outputs.
Connors Group released The Machine for sale to customers in March of 2010. The product has enjoyed rapid adoption across a range of trading and investing disciplines. In May of 2010 The Machine was recognized by Inside Market Data as a finalist for the 2010 award for Most Innovative Market Data Product. For more information on this recognition, please click here. For more information on The Machine, please call 973-494-7311 extension 1.